Bonded Fillings - Dentist in St. Albert - St. Albert Dentist
Chipped tooth? Cracked? Are there any cavities or decay? You may need bonded fillings. Luckily, our dental clinic at St. Albert offers a myriad restoration services including bonded fillings. 
What are bonded fillings?
Bonded fillings are a type of restorative dental treatment, intended to restore the health of your teeth and its appearance. It's a procedure in which a tooth-coloured resin material is applied to the decayed tooth and hardened using a special UV light. This ultimately "bonds" the material to the tooth to restore or improve a person's smile.
How do I know I need bonded fillings?
Our dentists, Dr. Gill and Dr. Schnepf will perform a dental checkup in St. Albert first before performing any procedures on you. They'll look for the following symptoms, which indicate you may need bonded fillings: 
Tooth sensitivity

Flossing string tears

Damage to a previous filling

A chipped or fractured tooth

Food stuck between teeth

Dark spots

Throbbing or sharp pain
Why are bonded fillings done?
Bonded fillings are a great way to fix your smile and restore the health of your teeth. It fills gaps between your teeth, repairs broken or chipped teeth, removes decay and fills in cavities, creating a uniform tooth surface. 
Modern bonded fillings are made out of a resin that is durable yet natural-looking. They are also malleable which allows for precise customization in terms of shape and colour in order to fit each patient's specific dental needs. The procedure is most often very quick and painless, and can typically be completed within one visit. They're affordable and strong. 
Dr. Gill, Dr. Schnepf and our renowned dental team will work with you to determine an appropriate treatment plan, so that you can achieve a naturally beautiful smile that you can show off with pride. Contact us at McKenney Corner Dental Care in St. Albert today for more information, or book an appointment online!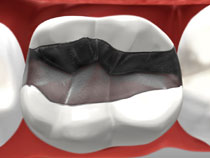 Last Updated On
2021-10-28