Bonded Fillings - Dentist in St. Albert - St. Albert Dentist
The professional dental staff at McKenney Corner Dental Care in St. Albert offer tooth-coloured composite restorations, which are more commonly referred to as bonded fillings. These types of procedures intend to repair and restore a wide variety of dental problems.
Some of the main issues that can be fixed with bonded fillings include :
Filling gaps between teeth.
Repairing broken or chipped teeth.
Filling cavities.
Replacing decaying or metal fillings.
Creating a uniform tooth surface.
Modern bonded fillings are made out of a resin that is durable yet natural-looking. They are also malleable which allows for precise customization in terms of shape and colour in order to fit each patient's specific requirements. The procedure is most often very quick and painless, and can typically be completed within one visit to our St. Albert dentist office. 

Dr. Gill, Dr. Schnepf and our dental team will work with you to determine an appropriate treatment plan so that you can achieve a naturally beautiful smile that you can show off with pride. 

All services provided by General Dentists.

Contact us at McKenney Corner Dental Care in St. Albert today for more information.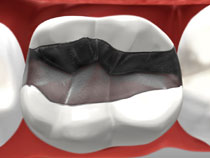 Last Updated On
2020-12-03