Porcelain Inlays/Onlays in St. Albert - Dentist in St. Albert
If you are suffering from extensive decay, bonded fillings may not be enough to effectively restore your tooth. As a result, porcelain inlays and onlays may be needed. These dental restorations are great for restoring:
Decayed or damaged teeth.
Back teeth  that are weak.
Teeth that have been previously treated.
Teeth under heavy chewing loads.
Teeth that are stained.
As you can see, porcelain inlays and onlays have extensive restorative and cosmetic benefits for your smile. Compared to fillings, inlays and onlays treat a wider surface area so are recommended when a tooth is more severely decayed.
However, compared to dental crowns, inlays and onlays only treat a specific section of the tooth.
Although inlays and onlays may seem similar, there are some minor differences between them. Inlays are slightly smaller than onlays and treat the inner cusps of the tooth. In comparison, onlays are a bit larger and extend over the tooth's cusps.
Inlays and onlays are made of porcelain material which means they provide a high degree of strength, durability, and toughness. The high-quality porcelain fortifies the tooth's structure and protects it from further fractures. The porcelain material can be customized to the unique shade of your teeth so are extremely natural looking. With proper oral hygiene and care, inlays and onlays can last for 10 years or longer.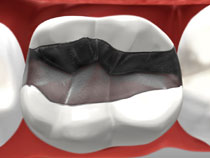 To place an inlay or onlay, it will require two appointments. During your first appointment, the dentist will first remove the decayed portion and make an impression of your tooth. This impression is used to create your dental restoration. As you are waiting for your dental restoration, your tooth will be covered with a temporary restoration. When your permanent restoration is ready, you'll come back to our office to have the permanent one placed. Drs. Robbie Gill and Trevor Schnepf will examine your tooth to determine the best treatment option for you. For friendly dentistry you can smile about, contact McKenney Corner Dental Center in St. Albert to schedule an appointment today.

All services provided by General Dentists.
Last Updated On
2021-10-28