Full Mouth Restoration - Dentist in St. Albert - St. Albert Dentist
Are you suffering from stains, decay, or gum disease? Some patients may be suffering from a number of various oral dental problems which require a more comprehensive approach. Just a few of the dental problems that patients may have are:
Tooth stains.
Decay.
Cracked or chipped teeth.
Crooked teeth.
Missing teeth.
Bite imbalances, such as underbites, open bites, overbites, and crossbites.
TMJ pain and related symptoms.
Gum disease.
Tooth pain.
Infections.
If you are suffering from any or a number of the above symptoms, McKenney Corner Dental Center in St. Albert offers full mouth restoration for you. Full mouth restoration uses a variety of restorative and cosmetic dental solutions to correct dental problems and give you a healthy attractive smile.
Depending on the extent of your dental problems, the type and number of procedures that we may recommend will differ. For example, if you are suffering from severe tooth stains, we may be able to eliminate them with professional teeth whitening treatments. On the other hand, if you have crooked teeth and gum disease, we can use orthodontics and non-surgical gum therapy to correct these issues. As a result, each full mouth restoration treatment is personalized to your specific needs.
Dr. Robbie Gill and Dr Trevor Schnepf, St. Albert dentist, will examine your teeth, gums, bite, and oral tissues to determine which treatments are best for you. If you are looking for a dental practice in St. Albert with customized dental solutions, contact our office to set up your examination today!

All services provided by General Dentists.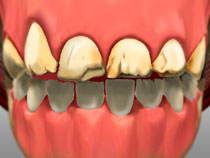 Last Updated On
2020-12-03