Full Mouth Restoration - Dentist in St. Albert - St. Albert Dentist
Are you suffering from stains, decay, or gum disease? Some patients may be suffering from a number of various dental problems which require a more comprehensive dental approach. However, have no fear! Our dentists in St. Albert is glad to provide you with full mouth restorations as a means of solving your dental problems. 
What is full mouth restoration?
Just what it sounds like, a full mouth restoration is the treatment of restoring your entire mouth to a healthy condition. It uses a variety of restorative and cosmetic dental solutions to correct dental problems and give you a healthy and attractive smile. Our dentists will firstly do a dental checkup in St. Albert on you before performing any procedures to ensure the best treatment plan for you. Depending on the extent of your dental problems, the type and number of procedures that we may recommend will differ. For example, if you are suffering from severe tooth stains, we may be able to eliminate them with professional teeth whitening treatments. On the other hand, if you have crooked teeth and gum disease, we can use orthodontics and non-surgical gum therapy to correct these issues. As a result, each full mouth restoration treatment is personalized to your specific needs. 
What are some dental issues that can be fixed with a full mouth restoration?
Here are some of the dental problems our patients may be facing, and can be easily solved with our full mouth restoration services: 
Tooth stains

Decay

Cracked or chipped teeth

Crooked teeth

Missing teeth

Bite imbalances, such as underbites, open bites, overbites, and crossbites

TMJ pain and related symptoms

Gum disease

Tooth pain

Infections
At times, a full mouth restoration might be needed after you have seen our emergency dentists in St. Albert about a pressing concern has surfaced in your mouth. Nevertheless, if you are looking for a dental practice with customized dental solutions, contact our office to set up your examination today, or book your appointment online!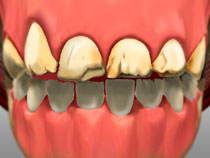 Last Updated On
2021-10-28